About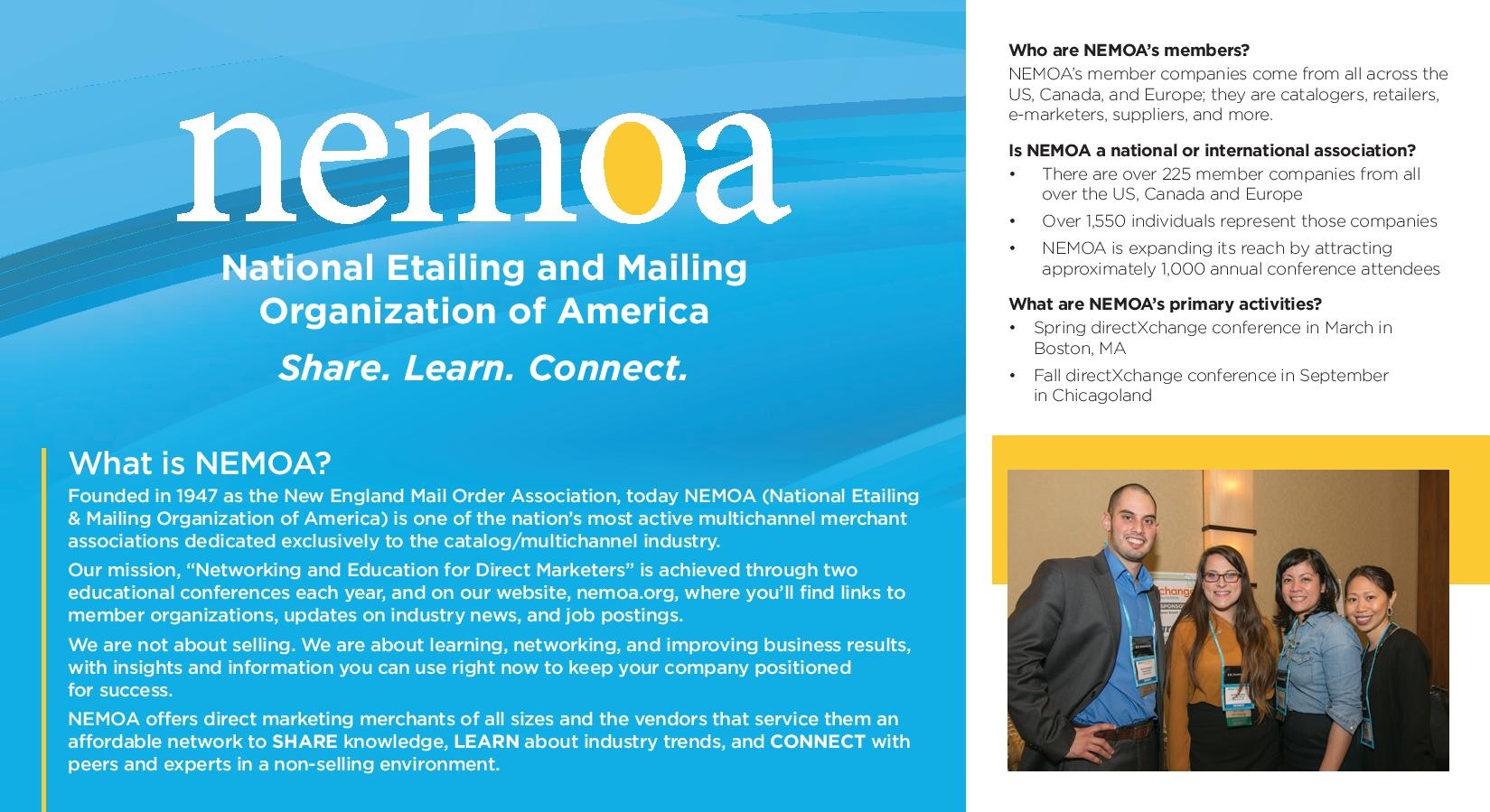 NEMOA is a non-profit 501(c)(6) trade organization.
NEMOA was founded in 1947 as the New England Mail Order Association. Today, NEMOA (National Etailing & Mailing Organization of America) is one of the nation's most active multichannel merchant associations dedicated exclusively to the catalog/multichannel industry.
Our mission is "Networking and Education for Direct Marketers"
which we achieve through two educational conferences each year, and on our website where you'll find links to member organizations, updates on industry news, job postings, and an active message board.
NEMOA member companies come from all across the US, Canada and Europe - you don't need to be from New England to become a member. And you don't need to be a member to attend a NEMOA event.
HISTORY OF NEMOA
NEMOA was founded in 1947 by a handful of pioneering New England mail order companies - Johnny Appleseed's, Brecks of Boston, Brookstone, and Deerskin Trading among them - as a professional group for discussions, community building, and information exchange. Over the past 70 years, NEMOA has not only grown beyond New England, but its membership has also become more diversified, including printers, list brokers, service bureaus and other suppliers to mail order businesses. Yet its focus remains catalog and direct e-tail companies, large and small. Today, with over 200 corporate members from across the country, NEMOA is one of the nation's largest professional organizations dedicated exclusively to the catalog/e-tail industry.
NEMOA is devoted to bringing together catalog/direct marketers and their supporters to build relationships and learn about industry trends and issues.
Members of NEMOA agree to:
Deal fairly and honestly with customers and suppliers.
Abide by laws and regulations governing direct marketers.
Respect NEMOA's dedication to sharing ideas, experiences and fellowship by creating a helpful, friendly, non-sales oriented atmosphere at NEMOA events.
Try to limit private meetings to free times, rather than competing with conference sessions or events.
If asked to present at a conference, refrain from self promotions.
Use Member directory for networking purposes only - not commercial or marketing use.
NOTE: If the Board of Directors determines by a unanimous vote that a Member has failed to adhere to the NEMOA Guidelines for Conduct, the Board may remove such member.
More Information: