directXchange by NEMOA, 2013 Spring Conference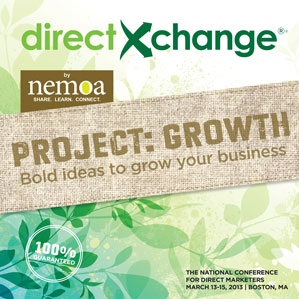 (Click here for the interactive conference brochure.)
CONFERENCE LOCATION
Renaissance Boston Waterfront Hotel
606 Congress St.
Boston, MA 02210

CONFERENCE DATES
Wednesday, March 13 - Friday, March 15, 2013


PHOTO GALLERY
Click here to view the gallery created by Douglas Mason Photography

Click here to view select photos from the Spring Conference and other recent events


SPEAKER PRESENTATIONS - are now posted
We have sent an email to attendees with instructions on how to access the presentations.

Are you a NEMOA member? You can access the presentations at any time.
Just log in to the Members Area, scroll down to the "Information Resources" section and click on "Speaker Presentations".


CONFERENCE PROGRAM
Project Growth: Bold ideas to grow your business


REGISTRATION

Click here for information on registration pricing and discounts

See who attended - Click here to view a list of registered companies


RISING STARS SCHOLARSHIPS - Congratulations to the winners!



Hadley Levat, Cuddledown
Caitlin Forman, Exclusively Weddings
Nate Woodward, National Geographic
Jason Spangler, Paul Fredrick
Shelby Dingle, Stony Creek Brands, LLC
George Trakadas, Vistaprint
Click here to learn more about our Rising Stars Scholarship Program


EDUCATION XCHANGE - Congratulations to the winners!



Christopher Norris, Stonehill College
Kira Carl, Del Oro High School
Click here to learn more about our Education Xchange Program



QUESTIONS?
Please contact the NEMOA office if you have any questions concerning this event
Terri Patashnik, Events Manager
terri@nemoa.org; Tel: 207-885-0090

Click here to learn more about last year's directXchange Spring Conference